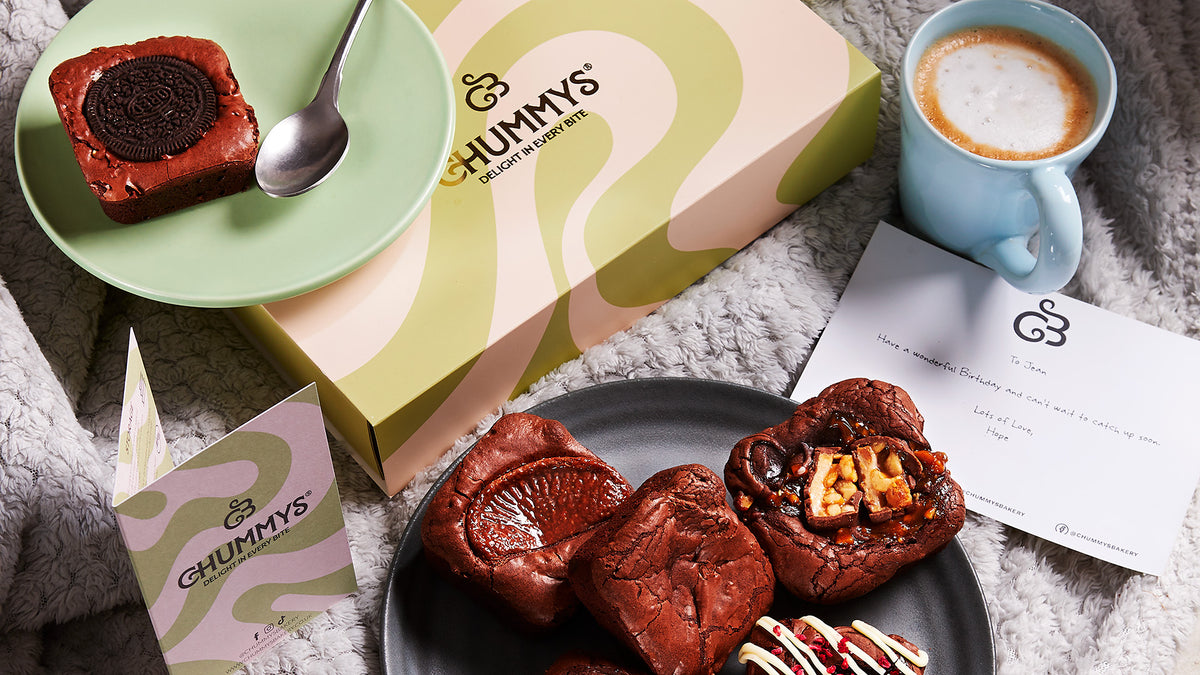 DELICIOUS POSTAL BROWNIES
DELICIOUS POSTAL BROWNIES
Sink your teeth into a world of gooey bliss with a box of Chummys postal brownies. Our fresh brownies are unique. Unlike other brownie bakers, we bake our brownies as full squares, rather than cut into pieces from a slab. This means each brownie has perfectly crunchy sides and a gloriously gooey centre. And that's exactly what will be waiting at your doorstep.
We source only premium, high-quality ingredients for our brownie deliveries and make a delectable range of treats for you to choose from, including Lotus Biscuit, Ferrero Rocher, Triple Chocolate, Nutella, Salted Caramel, and Kinder Bueno. Baked in small batches in our happy kitchen, our premium brownies are made with love.
BROWNIES DELIVERED NATIONWIDE
Explore our limited edition seasonal brownie boxes. Celebrate events such as Christmas, Valentines Day, Diwali, Easter, Mothers Day, Fathers Day, Eid & more, get these special postal brownies while you can!
What Sets Us Apart
We're bonkers for brownies. Here at Chummys we are particular about the details, and that means you're getting the best. From how and where we source our ingredients to our impeccable kitchen and sustainable packaging. When you order from us, you're ordering from a family-owned bakery in the UK that is passionate about baking and delivering the best. Our commitment to accessibility is rooted in our identity as a family-run business. We want moments of joy to be shared without breaking the bank. And that is why we are on a mission to offer our luxurious brownies accessible to everyone. Here are a few things that make us different from other bakeries:
The Best Ingredients
We are committed to quality. At Chummys, we use only the best ingredients, including 70% dark chocolate, baked to perfection by happy bakers. Better ingredients mean better tasting treats. We are thoughtful in how and where we source our ingredients. We support local because we believe that homegrown is better. Our postal brownies look good, taste good, and are baked with love.
Small Batches
We take pride in baking our delicious postal brownies in small batches to guarantee they're always fresh and bursting with flavour. Our gourmet brownies are baked as full squares rather than cut into pieces from a slab. This means that every single brownie has crunchy sides, a gooey center, and is baked to perfection. We work out of a sunny kitchen in [location] and we have a very high standard of quality control. Our kitchen is a hub of innovation, impeccably maintained, and bubbling with creativity.
We believe that the gift-giving experience should be just as delightful as our gourmet brownies. At Chummys we use beautiful eco-friendly packaging that is 100% biodegradable. We take pride in creating brownie boxes that bring people together. Select your date at checkout, personalise your postal brownies with your own message and hit send. We'll do the rest.
Letterbox Brownies
Our brownies are packaged in a box that is bigger than a standard size letterbox. Whilst they may not fit directly through a letterbox, we promise that our shipping provider will leave them in a safe place or deliver your brownies to a neighbour if you aren't in. Please select which option you would prefer when you receive your email notification from DPD.
From our oven and delivered fresh to your door. Order your postal brownies today and taste the difference. Want to learn more? Reach out to us today! We are available to chat and we will respond promptly to your questions. Planning a party or do you have specific needs? We would love to help!